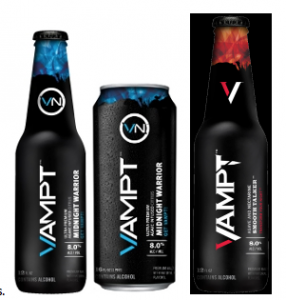 Vampt is an agave based (Tequila) flavored malt beverage in citrus and nectarine flavors with 8% alcohol by volume distributed in about 9 US states. For more info, please contact Lauren Shepard: lshepard@virtualbarter.com
We had 24,000 cases, but currently have 17,000 cases of Vampt Beverages available for sale.
Current inventory is 10,000 cases of 16 oz cans in both flavors and 7,000 cases of 12 oz bottles in both flavors.
Minimum purchase is one semi or container load (1400 to 1600 cases). Wholesale pricing is about $28/case.
We will entertain all serious offers. Commission can be paid upon a cash sale to an introduced buyer.
Product details, specifications and packing info available on request.
Following are links to several videos and product information.
http://www.bevindustry.com/articles/84912-vampt
http://writearm.ca/wp-content/uploads/2011/11/Vampt-Review-JUNE-2011-email-copy.pdf
Smooth Talker – The ripe sweetness of nectarines with just a hint of citrus to compliment the flavour of tequila.
Midnight Warrior – A balanced blend of the sharpness of tequila with the tangy sweetness of tangerines' and grapefruit with a hint of lime.
Vampt – Product Information Sheet
Vampt – Smooth Talker 4/6pk 12oz BOTTLES
Package Configuration: Twenty Four 12oz Bottles 4/6pk per Case
Alcohol by volume: 8%
Contains: Agave and Nectarine
Case Weight: 31 lbs
Case Dimensions: 15.75″ (L) x 11.75″ (W) x 9.5″ (H)
Item #: 57400-205-5
Bottle UPC: 8 57400 00205 5
6-Pack Carrier: 8 57400 00206 2
Tray UPC: 8 57400 00207 9
Pallet Type: Standard Wood Grocery Pallet 40″x48″
Pallet Configuration: 10 cases per layer, 7 layers per pallet, 70 cases per pallet
Loaded Pallet Dimensions: 48" (l) x 40" (w) x 62" (h)
Loaded Pallet Weight: 2210 pounds
Full OTR Truckload Configuration: 20 pallets per truck, 1400 cases per truck, 44,200 pounds
Vampt – Midnight Warrior 4/6pk 12oz BOTTLES
Package Configuration: Twenty Four 12oz Bottles 4/6pk per Case
Alcohol by volume: 8%
Contains: Agave and Citrus
Case Weight: 31 lbs
Case Dimensions: 15.75″ (L) x 11.75″ (W) x 9.5″ (H)
Item #: 57400-208-6
Bottle UPC: 8 57400 00208 6
6-Pack Carrier: 8 57400 00209 3
Mother Carton UPC: 8 57400 00210 9
Pallet Type: Standard Wood Grocery Pallet 40″x48″
Pallet Configuration: 10 cases per layer, 7 layers per pallet, 70 cases per pallet
Loaded Pallet Dimensions: 48" (l) x 40" (w) x 62" (h)
Loaded Pallet Weight: 2210 pounds
Full OTR Truckload Configuration: 20 pallets per truck, 1400 cases per truck, 44,200 pounds
Vampt – Smooth Talker 24/16oz LOOSE CANS
Package Configuration: Twenty Four 16oz cans per tray with shrink wrap over tray
Alcohol by volume: 8%
Contains: Agave and Nectarine
Case Weight: 27.3 pounds
Case Dimensions: 16″ (L) x 11″ (W) x 6.5″ (H)
Item #: 57400-211-6
Can UPC: 8 57400 00211 6
Tray UPC: 8 57400 00212 3
Pallet Type: Standard Wood Grocery Pallet 40″x48″
Pallet Configuration: 10 cases per layer, 8 layers per pallet, 80 cases per pallet
Loaded Pallet Dimensions: 48" (l) x 40" (w) x 58" (h)
Loaded Pallet Weight: 2224 pounds
Full OTR Truckload Configuration: 20 pallets per truck, 1600 cases per truck, 44,480 pounds
Vampt – Midnight Warrior 24/16oz LOOSE CANS
Package Configuration: Twenty Four 16oz cans per tray with shrink wrap over tray
Alcohol by volume: 8%
Contains: Agave and Citrus
Case Weight: 27.3 pounds
Case Dimensions: 16″ (L) x 11″ (W) x 6.5″ (H)
Item #: 57400-213-0
Can UPC: 8 57400 00213 0
Tray UPC: 8 57400 00214 7
Pallet Type: Standard Wood Grocery Pallet 40″x48″
Pallet Configuration: 10 cases per layer, 8 layers per pallet, 80 cases per pallet
Loaded Pallet Dimensions: 48" (l) x 40" (w) x 58" (h)
Loaded Pallet Weight: 2224 pounds
Full OTR Truckload Configuration: 20 pallets per truck, 1600 cases per truck, 44,480 pounds